Do you know what millennials don't use often? Cash. They're transitioning to more and more electronic transactions every day. In fact, a recent study showed that 20% of young adults used less than $5 cash per month!
This is definitely exciting news to the many fast-rising mobile payment services, such as Venmo. "Just Venmo me" is quickly becoming the most popular phrase among millennials in America as an informal way to request money.
Since PayPal bought the money transfer app back in 2013 for a whopping $800 million, Venmo has become one of the USA's most popular and most widely used apps.
Research by Lend Edu shows that Venmo controls the market with about 44% of the share, but as you're transacting come with zero transaction fees, how does Venmo make money? You may ask!
Here I have come up with all the answers to the question "how does Venmo work"?
What Is Venmo?
Venmo is a rapidly growing mobile payment app that facilitates individual to individual and individual to business money transfers, with the added advantage of social networking.
It takes the best parts of Facebook and other social networking sites and puts them alongside the great features of an e-wallet like Paytm (paid in advance). With this app, you can use your mobile to:
Transfer money to someone else.
Request funds from another individual.
Make payments to more than 2 million traders online and offline.
Post and share the kind of purchases you and your friends are making.
Venmo was established in 2009 by two friends from the University of Pennsylvania, Iqram Magdon-Ismail and Andrew Kortina, as a platform for transferring money via text messages.
But in 2012, the company launched an iPhone and Android app that people could use to send and receive money.
Venmo took advantage of the peer-to-peer (P2P) market by letting users link their bank accounts or credit cards to the application and transact right from their smartphones.
Is It A Legal Service?
Yes, Venmo is a legal service, but you must be living in the U.S. and hold a U.S. bank account to enjoy Venmo services. Of course, you must also agree to adhere to all the terms and conditions in the company's user agreement.
Venmo vs. PayPal
PayPal was the first popular and widely-used digital wallet. Established in 1998, it was released to the public four years later, and was quickly acquired by eBay. Before its spin-off in 2015, PayPal had transformed into a major moneymaker for eBay.
PayPal spent a record $800 million in 2013 in the acquisition of Venmo (which was itself bought by Braintree for $26.2 million). Since the acquisition, the mobile payments app has stamped its ground in the Fintech landscape. Today, the app has more than 40 million users.
Although both apps are utilized in facilitating transactions and transfer of funds between bank accounts comfortably and securely, PayPal has invested in other financial products and is starting to seem more of a bank than a mobile payment app.
Besides payment services, PayPal today finances big purchases, increases the line of credits. It gives clients debit with MasterCard Inc., which leverages PayPal balances to make payments in physical stores or to withdraw money.
How is Venmo Different from PayPal?
Venmo serves both as a digital wallet and a social media network. Share your transaction, and you can get comments that are displayed in a newsfeed style. Users can comment on sharing funny stories, inside jokes, and their feelings on the transactions.
The app adds a touch of fun to repaying a friend for lunch, for example. Don't worry about everyone seeing what you've bought, though. It also features privacy settings that enable users to decide which transaction they want to share with friends.
One thing that has endeared Venmo to millions of users is its capability to swap the detached, private transacting that takes place on PayPal with an open arena and a pool of friends. Venmo is created to facilitate payments between friends and individuals who trust each other.
The app adopts a system built to resemble cash payments, and it facilitates instant and irreversible transfers between Venmo accounts. This means if you pay the wrong person you'll have no option other than asking the recipient nicely to refund your money and pray they do.
Venmo is an excellent replacement for cash when you want to pay back a friend. Although you can't use it to pay Netflix Inc., you can transfer your share of the Netflix bill to your roommate.
Venmo has adopted a much less business-oriented structure and is tailored for P2P transactions, meaning you won't be faced with any special fees and it doesn't offer loans for merchants.
PayPal, on the other hand, was designed to help businesses and individuals make digital money transfers and payments, so its structure is specially designed for businesses.
PayPal offers special fees and services for businesses. It also extends loans to businesses via the PayPal Working Capital or PayPal Business Loan.
Transferring Money from Venmo to PayPal
No, you can't directly move money from Venmo to PayPal, as there is no link between them to make this happen. That doesn't mean you can't send money from your Venmo account to your PayPal, it just means the process will take longer. Here are three steps to make the process simple and easy.
Link both Venmo and PayPal with the same bank account.
Move your Venmo money to your bank account.
Log in your PayPal account and then top-up your PayPal with the funds from your bank account.
Connect PayPal and Venmo
Connecting PayPal and Venmo is an easy task. All you need to do is to attach a common bank account to both PayPal and Venmo accounts. Alternatively, you can take a PayPal Debit MasterCard if you haven't already, and attach it to your Venmo account.
Every time you use the PayPal Debit MasterCard to pay for things, the money will be pulled out from your PayPal.
Venmo or PayPal, Which One is Better?
As usual, that mostly boils down to what you want to use the service for. For people who are paying small sums to friends or connections (essentially, people they know and trust), Venmo has low fees. It also a comprehensible format that suits the needs of users of all ages, especially millennials.
The design and features of the payment service app are tailored for smaller, day-to-day transactions rather than large purchases or transfers. What's more, the app is specially built to be used between connections or friends.
PayPal, on the other hand, is perhaps the best choice for users who are merchants, businesses, or those who need to make bigger transfers or exchange money with strangers.
The app is also a popular choice for online shopping and has a broader collection of products and offers, including credit and a MasterCard. Moreover, if you prefer using payment services and cash apps to make purchases, PayPal is more widely accepted.
How Does Venmo Work?
Venmo allows you to send and receive money straight from your phone. Here are activities that the app can perform:
Instantly send money to your bank account
Setting Up Venmo Account
Go to the app store and download the Venmo app
Click the "Install" button to install this.
Now open the app
Next, go ahead and sign up. Choose between these two options "Sign up with email" and "Signup with Facebook"
Put your personal information and then "Next". There will be a mobile verification option that you need to complete using your phone number.
Now to the Friends option to allow Venmo to collect all the contact details who are Venmo Users. It has an option to connect with Facebook.
To perform all these activities, sign in or open an account on the Venmo app by connecting it with your email ID and phone number. You can also link it to your Facebook if you wish. Upon registration, you can use the app to pay anybody with any of the following sources
Adding Money to Venmo
If you have been authorized for a Venmo MasterCard, you can top-up your Venmo balance right from a verified bank account. Here are the steps you should follow:
If you haven't already, attach your bank account to your Venmo account and verify it.
In your Venmo app:
Click the "☰" icon in the top-left corner of the app
Click "Manage Balance"
Click "Add Money"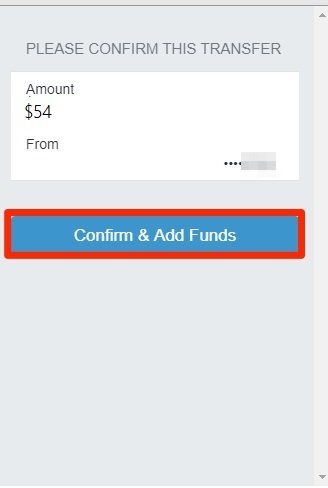 Key in the amount you'd like to move and click "Done."
Verify the bank account you'd like to move money from and click "Next"
Carefully go through the transfer information and projected arrival date, and then click "Add Money"
How Venmo Debit Card Works?
This card functions just like any other debit card. With a simple swipe of the card, you can pay for your purchases and the funds are pulled straight out of your account. Unlike a traditional debit card that withdraws funds from your bank account, the Venmo debit card pulls money from your Venmo account balance.
You can use your Venmo debit card at any ATM or bank to take out money. Withdrawing money from a teller or without using a MoneyPass ATM attracts some fees. You can also use your card in any store or retailer that accepts MasterCard in the U.S.
How Do Users Receive Funds?
Receiving funds on Venmo is pretty straightforward. Here are the steps to follow:
Provide the sender with your username, phone number, or the email linked to your Venmo account.
Another way is to send your Venmo scan code to the sender through the app, email, or text.
The money will reflect in your Venmo account once it's sent by the sender.
Can I Schedule Payment on Venmo?
Yes, the app offers a form of billing agreement called "preauthorized payments" that enable an authorized merchant to get recurring payments from your account. For instance, the preauthorized amount can be deducted from your Venmo account on a monthly basis or on a recurring billing cycle.
Which Prepaid Cards Accept Instant Transfers for Venmo?
This service is only available for some U.S. bank accounts, MasterCard debit or Visa cards that take part in either MasterCard send platform or Visa's Fast Funds. If selecting a debit card is unsuccessful when you're trying to initiate an instant transfer, then your banking services provider doesn't take part in either service.
Venmo Charges
According to Venmo's website, there is a 3% fee associated with sending money with Venmo, but that cost is waivered if you use your Venmo balance, verified the bank account, or even debit card to finance that cost. Be aware, though: the company doesn't waiver a 3% fee for credit card payments.
The Venmo's website claims that fee comes from the credit card firms, which means the company just passes the expense onto consumers.
Moving funds out of your Venmo account is slightly different. Standard transfers that take between one and three days don't cost anything, instant transfers that put funds in your account within 10 minutes attract a minimum of $0.25 and a maximum of $10.
Does Venmo Work Internationally?
Venmo doesn't operate internationally because users must be physically based in the U.S. to perform any transaction on the app. A verified U.S. bank account is a requirement for setting up a Venmo account. If you intend to apply for a Venmo credit card, then a valid Social Security number will be necessary, as well.
Where Can I Use Venmo to Pay for Things?
Venmo only allows you to pay for things with a Venmo card at dealers that approve the card or via mobile sites or apps where Venmo is accepted as a payment option.
How Does Venmo Transfer Money?
The funds you want to transfer are taken out from your Venmo account. If you've got an insufficient balance or the account is completely empty, Venmo will pull the transfer amount from the bank account associated with your Venmo account.
How to Transfer from Venmo to Bank
Assuming you already have a verified bank account linked to your Venmo account, then transferring funds from Venmo to the bank is an easy task. In the app:
Click the "☰" icon in the top-left corner of the app
Click "Transfer Money" or "Transfer to Bank." (You can also click "Manage Balance" followed by "Transfer to Bank")
Key in the amount you'd like to move to your bank
Click "Instant" for a small charge or "1-3 Biz Days" for free, and choose the bank account or debit card you want to top up.
Verify your transfer information and click the green "Transfer" icon
How Long Do Venmo Transfers Take?
Money transfers usually take from 3 to 5 business days to reflect in your Venmo balance. Remember, the money will only reflect on your account when the transfer is complete.
Venmo Transfer Limit
Venmo has set a weekly limit of $299.99 for new accounts. Once the company has verified your identity, the amount you can send through your Venmo account per week is increased to $2,999.99. Certain forms of transactions may attract different limits. What's more, you can only make a maximum of 30 retail payments per day.
Does Venmo Accept Gift Cards?
Venmo can link to several cards, including certain prepaid cards. The app approves prepaid or gift cards from MasterCard, American Express, Visa, and Discover. So if any of these brands have issued you with a gift card, you can link them to your account.
How to Cancel a Venmo Payment?
Venmo only allows you to cancel a payment if you have sent it to an individual who doesn't have an active account. If you've paid the wrong person accidentally, that transaction is irreversible. All you can do is ask that person nicely to refund you. Below are the steps for canceling Venmo Payment sent to a non-Venmo user:
Click the "☰" icon in the top-left corner of the app. If you've any incomplete payments or notifications, you'll see a small red dot.

Select "Incomplete" on the options to see the incomplete payments you made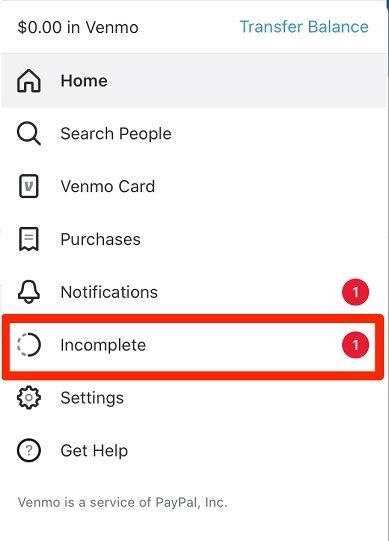 The "Incomplete" section consists of two options: payments and requests. Select "Payments."
Details of the payment you made will be displayed.
If the recipient isn't a registered Venmo user, you can select "Take back" adjacent the payment.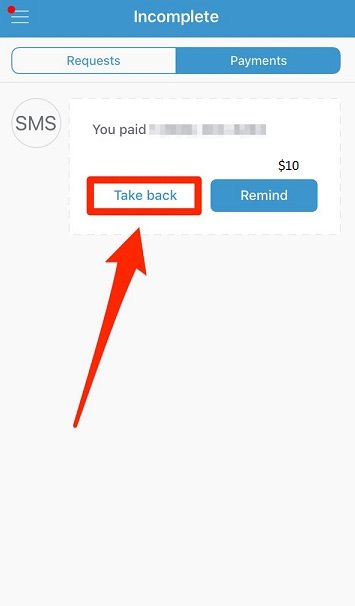 Once you do this, the payment will become grey and show the note, "You canceled this request". When you return to your Venmo homepage or start up the app once more, the payment will have gone away and the money sent to the unregistered user won't be deducted from your linked bank account.
Venmo's Business Model
The app has arguably one of the most intelligent business models designed and tailored for millennials. On top of helping its users take care of their embarrassing tasks like bill splitting, the app's user interface features a social newsfeed that allows them to share and see what their friends are buying in an entertaining way.
Since Venmo was the first to adopt a business model that cleverly resolves the challenge of splitting bills, the company has recorded tremendous success.
Before the app, people had to accept late payments because it was done through cash that wasn't always available or checks that take several days to clear. The Venmo business model also resolved the added embarrassment of reminding someone to pay.
How Does Venmo Make Money?
Venmo is largely free, but it has other sources of revenue. Since its purchase, the app has invested in more revenue sources, but unlike PayPal, the company hasn't yet begun earning interest from the money saved as Venmo balances. The company's revenue model falls into two categories:
Credit Card Fees
Transactions made with Venmo balance, bank account, or through a debit card are free, but payments made with a credit card attract a 3% fee.
2. Merchant Fees
PayPal has played an instrumental role in helping Venmo take advantage of merchant fees. Merchants that receive payment via PayPal can now offer their clients Venmo as a payment alternative. The merchants pay 2.9% plus fixed charges, the same amount they'd have paid to PayPal.
Here I have listed some useful apps that can actually help to make money.
Is Venmo Safe?
Nothing that uses the internet is entirely safe. So apps like Venmo that are directly connected to the bank accounts of consumers must implement the highest security standards. Still, we have a question How safe is Venmo?
The app employs bank-level security and topnotch data encryption to ensure the transactions are safe and secure, as well as protecting you from unauthorized transactions. However, it doesn't allow payments to unregistered people and it does very little to help users who make payments to the wrong person.
Use Venmo Safely
This app provides fingerprint-based login options. It also allows you to create a strong pin and set up two-factor authentication to prevent unauthorized access.
If you accidentally lose your phone or it gets stolen without having this security feature set up, you can block access to your account by opening your Venmo account with another device and adjusting your permission settings.
Venmo Scams You Should Know about
Many fraudulent transactions take place on Venmo. Here are some of the most popular forms of scams that happen on this app.
Sellers are the main victims of scams on Venmo. A seller may post an ad for something. A buyer spots the ad, gets in touch with the seller, and then transfers the funds to the seller with Venmo.
At this stage, an unknown individual takes the sale item, and simultaneously, the seller receives a notification that their Venmo balance has been topped up. If the buyer is a con artist, the seller receives another notification that the funds' transaction was reversed.
This scam involves scammers stealing the Venmo account details of another person and transferring the funds to their own account. When the owner of the hacked account discovers unauthorized transfers and reports them to Venmo, the company returns the funds to the original holder of the account.
Scammers may also top-up their Venmo accounts using fake bank accounts and stolen credit cards. Then, when the company discovers the scam, they reverse all the fees and recover their money. In both scenarios, the seller ends up losing the money and the item they were selling.
If a potential scam is reported, Venmo's fraud department will freeze the suspected account, but this doesn't really help the seller recoup their money. It just keeps the "buyer" from performing more transactions and swindling more users.
Summary
It's so popular that the name itself has even become a verb. This app also helps PayPal improve its products and services and makes them more suitable for millennials.
Venmo, along with other mobile payments apps that make up the PayPal ecosystem, has taken control of the peer-to-peer transaction scene. Venmo has taken control of the peer-to-peer transaction scene. Have you got your account yet?
For more exciting content like this, you can visit Moneybumper at any time.