In today's world, online shopping is more convenient for customers. The increasing popularity of different e-commerce sites makes it easier to buy or sell products online. Therefore, many online sites like Shopify use this opportunity to make money.
Shopify is a global e-commerce platform for retail Point of Sale systems and online stores. However, it started as an online site initially for snowboarding equipment in 2004. Now it has 1,000,000 different businesses around 175 countries worldwide.
Whether you're a small business or big enterprise, it empowers every individual business owner. Here, you can create a custom business website to find customers and generate sales using powerful tools. Are you having trouble setting up the store? No problem, as Shopify offers experts' help for everything.
Moreover, with more than 3.6 million online stores, Shopify earned a total revenue of $2,929.5 million in 2020. It's surely a huge amount. But what is the revenue source? Shopify currently earns through its subscription fee, transaction fee and partner program.
Shopify offers a basic service to establish an e-commerce website for only $29/month. The higher plan you'll purchase, the more features you'll unlock. Though the core business is based on subscription, it makes money from additional services by merchant solutions. Eventually, the company has grown revenue by 41% via subscription service and 116% via merchant solutions in 2020.
So, if you want to dive into this e-commerce world, go through the article to know how does Shopify make money and what services it offers.
The Journey of Shopify
The journey of Shopify from retail to an online platform is quite interesting. Tobias Lutke, a computer programmer and Scott Lake founded the company in 2004. But back at that time, it was known as Snowdevil, an online store for snowboarding tools only.
However, they were dissatisfied with the online service and e-commerce products. Hence, Lutke decided to build their own online store using the web application Ruby on Rails.
Meanwhile, they got another co-founder in 2005, Daniel Weinand. Their primary target was to develop a web platform for online stores. The motivation was to make it possible for online retailers to build their own website hassle-free. Eventually, after two months of development, they finally launched Shopify in June 2006.
Later, Shopify introduced Application Programming Interface (API) and App Store in June 2009. The developers started adding different services, creating applications for its online stores and then sold them on the Shopify App Store. Thus, they build an ecosystem where web designers, app developers, merchants and other professionals can work together.
As the company started growing, it hosted about 120,000 online retailers by 2014. Further, on 14th April 2015, Shopify launched an initial public offering to sell shares on the New York Stock Exchange and Toronto Stock Exchange.
Finally, on 21st May 2015, Shopify went public. Surprisingly, it started trading at $28 per share in the debut, which was 60% higher than the offering price ($17). Currently, Shopify has almost half a million active online sellers. Consequently, the stock has risen to $29 billion in sales.
Additionally, in June 2019, Shopify launched its own Fulfillment Network or warehouses across the US to compete with Amazon. The merchants now don't have to worry about the shipments, as Shopify handles all shipping logistics.
How Does Shopify Make Money?
Shopify provides opportunities to all entrepreneurs and large enterprises to manage businesses online. Hence, any sized business can expand its online presence by turning the retail store into an online store.
As already mentioned, the company's revenue is based on subscription services. Another key offering in revenue is merchant solutions as payment processing fees, shipping fee and Shopify Capital. Furthermore, the Point of Sale (POS) application and Shopify Partner Program are boosting the revenue.
Let's see how does Shopify make money through its different services.
1. Shopify Subscription Service
Shopify makes a large percentage of money from its subscription packages. Before purchasing them, you can try Shopify free as a seller for 14 days without providing credit card information.
Here are the three primary monthly plans with different features offered.
Basic Shopify Plan: Costs $29/month to start a new business. The features include,
Online store including blog and e-commerce website.
Unlimited products.
Two staff accounts.
24/7 support.
Sales channels, including social media.
Manual order creation.
Discount codes and gift cards.
Abandoned cart recovery.
Free SSL certificate.
Up to four inventory locations.
Payment processing system.
Shopify Plan: Costs $79/month to grow a business. Along with the features mentioned above, it offers
Five staff accounts.
Up to five inventory locations.
Professional reports.
Advance Shopify Plan: Costs $299/month to unlock additional features for scaling the business. Those are,
Advanced report builder.
Third-party calculated shipping rates.
15 staff accounts.
Up to 8 inventory locations.
Apart from these three, Shopify has two additional subscription offerings.
Shopify Plus Plan: It's a plan for enterprise customers, starting at $2,000/month to provide higher business sales volume. It has additional features like scalability, functionality and support requirements, including a dedicated Merchant Success Manager.
Shopify Lite Plan: Costs $9/month. It's a plan for merchants looking to sell in-person and online or add a buy button on their websites.
Most sellers prefer Basic and Shopify Plan. However, Advanced and Shopify Plus plans are the largest source to achieve maximum Gross Merchandise Volume sales. Even the retention rate of the Shopify Plus plan is higher than the lowest/cheap plans.
Since 2008, there are around 5,300 enterprise stores in Shopify, such as Kylie Cosmetics, Unilever, ColourPop, Finisterre, MVMT, etc. While other merchants prefer monthly plans, enterprise clients sign in an annual or multi-year contract. Those plans have the advantage of automatic renewal until the enterprise cancels it. Undoubtedly, the company's subscription offerings are the key source of how does Shopify make money.
2. Shopify Merchant Solutions
Shopify makes money through different merchant solutions like Shopify Payments, Transaction fees, Shopify Shipping, Shopify Capital and Shopify Point of Sale (POS). In fact, merchant solutions now generate more revenue than subscription services.
Let's get into the details.
Shopify Payments:
Shopify's payment processing service is an integral part of the merchant's processes. It allows them to accept and process payment cards online and offline using Shopify Payments or other payment processors. Additionally, its fraud analysis feature identifies fraudulent orders to prevent higher chargebacks.
Moreover, the payment process makes it easier for the merchants to re-engage with the existing customers. As a result, the customer retention rate gets higher among merchant subscribers.
Furthermore, Shopify takes a percentage of the overall sale for every transaction. This transaction rate depends on the subscription plan.
Basic Plan: 2.9%+$0.030 for online credit card rates and 2.7%+$0.00 for in-person credit card rates.
Shopify Plan: 2.6% + $0.00 for online credit card rates and 2.5%+$0.00 for in-person credit card rates.
Advanced Shopify Plan: 2.4%+$0.030 for online credit card rates and 2.4%+$0.00 for in-person credit card rates.
Also, Shopify charges an extra fee for using a different mode of payment processor. Suppose you're using PayPal to pay; hence Shopify will charge a transaction fee + an additional processing fee.
Here is the percentage rate of additional fees for using another payment provider rather than Shopify payments.
For Basic Plan: 2.0%
For Shopify Plan: 1.0%
For Advanced Shopify: 0.5%
In short, Shopify will take a cut of your gross sale in both ways. According to their financial report, two-third of the merchants use Shopify Payments.
Shopify Shipping:
Shopify Shipping enables merchants to connect their Shopify account with Shopify's shipping carrier accounts. It's only available for shipments from Fulfillment locations like United States, Canada and Australia.
The benefits are:
During checkout, it shows calculated shipping rates to the customers rather than a flat rate.
Buy and print shipping labels from various shipping partners available such as USPS, DHL Express or UPS.
Get shipping discounts for shipping labels (up to 74% for Basic and Shopify plan, up to 76% for Advanced plan).
Easy to track orders directly within Shopify.
Shopify Capital: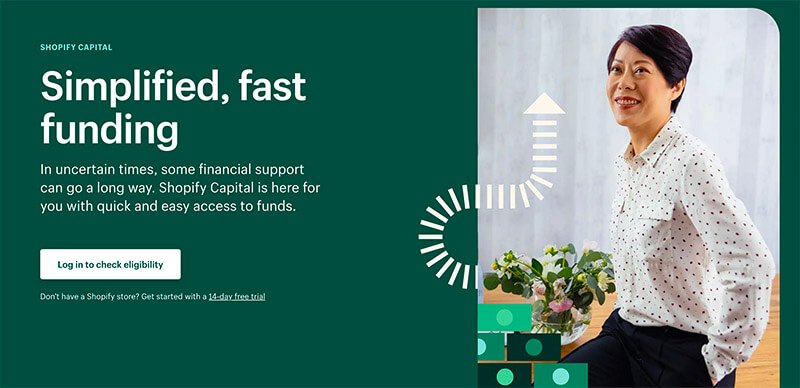 Shopify Capital provides cash advance and loans to eligible merchants. In this way, they get secure financing and boost business growth. However, until the outstanding balance is paid completely, the merchants give a fixed percentage of the sale to Shopify.
Your request for capital funding may take 2-5 business days. Once it's approved, you'll get the funding in your bank by the next business day. As a matter of fact, if you Switch to Shopify Payments from other payment processors, it may take more time to approve.
Another key point is Shopify Capitals loans are available for the stores in selected US states. Whereas Shopify Capital Merchant Cash Advances are for stores located in the other US states, Canada and UK.
Shopify POS: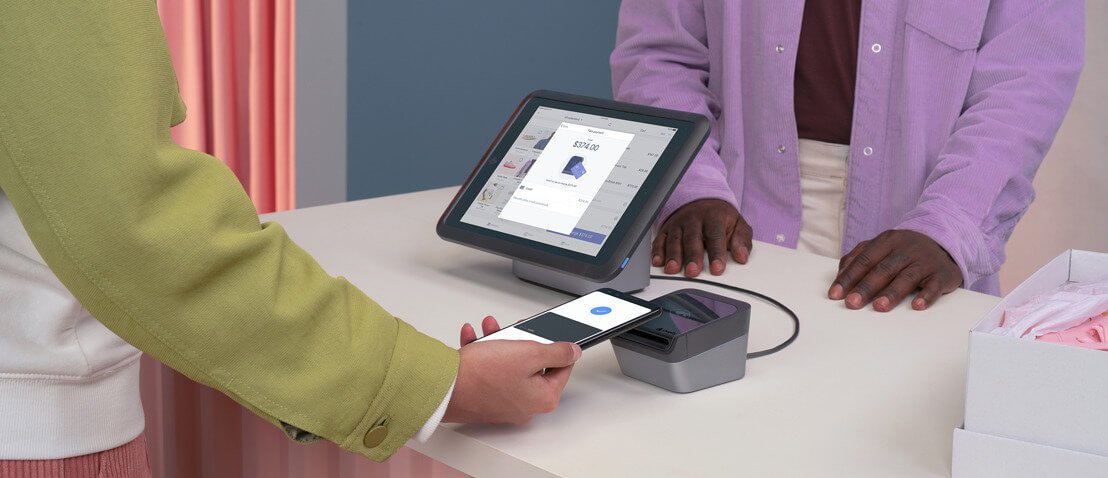 Do you want to expand your online store? Then get started with Shopify POS.
Shopify POS is a mobile application where you can sell products in-person at brick-and-mortar stores, retail stores and markets. Additionally, you can track and manage orders and inventories at online, retail stores and other sales networks with this service. In Short,
Browse in-store and buy online.
Buy in-store and ship to the clients.
Buy online and pick up in-store.
So, if you have a Shopify online store and want to sell in-person, all you need is a Shopify POS app, hardware to set up and payment methods.
But how does Shopify make money with the POS system? It offers two pricing packages with different benefits.
Shopify POS Lite- It's for on-the-go sale and included with all Shopify subscription plans. The features are,
The in-person credit rate starts at 2.4%+$0.00.
Mobile friendly.
Hardware accessories.
Order and product management.
Customer profiles.
Shopify POS Pro- It's for brick-and-mortar sales and included with all Shopify plan. It costs Shopify Plan+$89/month/location. Along with other Shopify POS features, it offers additional benefits as follows,
Unlimited registers.
Unlimited store staff.
Staf roles and permissions.
Smart inventory management.
Omnichannel selling utility.
In-store analysis.
3. The Partner Program- Shopify Ecosystem
Shopify is based on a cloud-based system providing high scalability, security, reliability, performance and deployment. Hence, this platform is limited to set websites for the merchants and helps them with necessary guidance.
Shopify Partner Ecosystem enables you to sell apps, features and themes that merchants can use for their stores. This program is for software or app developers, theme designers, other digital professionals and affiliate marketers.
In short, besides creating a website in Shopify to sell products, you can also earn by selling tools to the merchants. So, how does Shopify make money through a partner program?
Being a Shopify Partner, you can launch an app in the system. When a merchant buys it, you and Shopify will share a percentage, known as Revenue share.
However, this share depends on what plan the merchant has and the fees of themes and apps. It generally ranges from 10%-20%, depending on the Shopify monthly plan. Moreover, Shopify will take a cut as long as the merchant is using the app or theme.
The Full-Year Shopify Financial Report of 2020
Shopify has seen record growth over the year. Especially in 2020, the revenue has increased about 86% than the previous year. The main reason was many new entrepreneurs and businesses joined this e-commerce platform during the coronavirus outbreak.
Let's take a look at the 2020 full-year financial report of Shopify.
The total revenue in 2020 was $2,929.5 million.
The revenue from subscription service was $908.8 million, a 41% growth than 2019. On the other hand, merchant solutions revenue was $2,020.7 million, 116% more than 2019.
The Gross Merchandise Volume (GMV) was $119.6 billion, 96% more than 2019. Also, Gross Payment Value (GPV) incremented to $53.9 billion, accounted for 45% of GMV processed versus $25.7 billion (42%) in 2019.
Gross profit increased to $1,541.5 million in 2020 compared to $865.6 million in 2019. That is a 78% of increment.
Adjusted gross profit grew to $1,568.5 million in 2020 compared to $879.4 million in 2019, i.e., a 78% increment.
The operating income was $90.2 million or 3% of revenue in 2020, whereas 2019 had an operating loss of $141.1 million or 9%.
Moreover, adjusted operating income for 2020 was $437.4 million or 15% of revenue compared to the same for 2019 was $45.8 million or 3% of revenue.
Net income was $319.5 million or $2.59 per diluted share in 2020, whereas there was a net loss of $124.8 million or $1.10 per basic and diluted share in 2019.
Adjusted net income was $491.3 million or $3.98 per diluted share in 2020, compared to $34.3 million or $0.30 per diluted share in 2019.
What is Shopify KPI?
To understand how does Shopify make money well, you can use Key Performance Indicators (KPI). It shows how well a business is hitting its target. However, to select an appropriate API for the business, you need to set goals first. Otherwise, you won't be able to apply it.
Therefore, every company has different KPIs depending on its priorities. For example, for a subscription-based service or SaaS application, you can consider Monthly Recurring Revenues (MRR) as a performance metric.
Then again, Gross Merchandise Volume or GMV is an effective KPI for a business that hosts third-party services and products to sell. It measures performance depending upon how much volume of products the sellers have sold.
As Shopify is a hybrid platform offering subscription-based and other additional services, it uses MRR and GMV as two major KPIs. However, GMV is dependent on the growth of the subscription service.
In a Nutshell
Shopify provides opportunities for all-sized businesses to grow. If you wish to try your luck in the e-commerce world to start a new business, Shopify can help. The core of Shopify is based on its subscription services mainly. Over the year, it has made a large amount for the company.
However, different merchant solutions are now accelerating the revenue in a great way. If you look at the revenue structure, you may find additional services like Shopify Capital, Shopify POS and others that have a major contribution.
Additionally, the merchants are relying more on apps and designing tools for their online store. Consequently, Shopify is making a fair percentage from different partnership applications.
At the same time, the company has further plans to expand its offerings for all types of businesses. Such as, they are investing $1 billion in Shopify Fulfillment Network for faster and affordable shipping solutions. Also, they are trying to expand in other geographic locations too.
So, in the long run, Shopify may have a strong market position and other revenue sources.