Who doesn't familiar with the app WhatsApp nowadays? From personal to business usage, WhatsApp has become an essential part of everyone's daily life.
WhatsApp is a free messaging service as an alternative version of SMS. Moreover, it is currently the most popular mobile messaging app, with 2 billion users worldwide as of October 2020.
WhatsApp was founded in January 2009 by two former Yahoo employees Jan Kaoum and Brian Acton. In 2014, after Facebook bought WhatsApp for $19 billion, the number of users increased from 450 million to 1.6 billion. It is huge. After all, this ad-free platform enables people to send unlimited text, images and videos using their network and make audio and video calls free of cost.
Now you think if it's free, then how does WhatsApp make money? The founder clearly stated earlier that it was not for the big companies to place advertisements. So, what are the revenue sources?
Well, WhatsApp creates its own strategy to make money. Firstly through WhatsApp Business API and secondly, subscription fee, it gains profit. Also, the recent developers (Facebook) have their big plans regarding the WhatsApp revenue.
Let's go through this article to know in details.
The Background History of WhatsApp- How it Started?
Before WhatsApp, Jan Kaoum and Brian Acton worked in Yahoo from 1998-2007. After leaving the job, they took some time off in South America. Meanwhile, they applied on Facebook but got rejected.
The one-to-one messaging service WhatsApp started its journey in 2009 with Jan Kaoum and Brian Acton. Initially, it was available on iPhone only. At first, it was not even a messaging app. Users could only post status on WhatsApp, and others could see that. However, this earlier version kept crashing.
In 2009, Apple launched a "Push notification" which allowed users to be pinged when someone updated his/her status. This feature became so popular that users started to ping each other, and WhatsApp turned into an instant messaging app.
Finally, it added the messaging feature in the next version, i.e., WhatsApp version 2.0. Eventually, it increased the number of users to 250,000. In October 2009, Brain persuaded his five former Yahoo friends to invest $250,000 in seed funding and became a co-founder. By November 2009, WhatsApp was launched exclusively on the Apple store.
The Journey of WhatsApp
In about 12 years of journey, WhatsApp hit many bumps. It changes the way people talk and becomes a Facebook-owned company.
After iPhone, WhatsApp became available on Android also in August 2010. By June, it brought a new feature, "Location Sharing," where people could share their live location with friends in contacts.
In 2011, WhatsApp launched "Group chat". They hit the record of 1 billion messages in a day in the same year. Also, it reached the top 20 App list on the Apple App Store. The Group Chat is the popularly used feature till now. Almost every user is into at least two to three groups in WhatsApp.
In 2013, WhatsApp brought the biggest update, i.e., VoIP service. Eventually, WhatsApp transformed from a text-only app to sending voice messages.
However, the year 2014 turned out to be the most crucial year for WhatsApp. In February 2014, Facebook acquired WhatsApp for $19 billion for its mind-boggling usage and users. WhatsApp hit 500 million users even in April, but it also added a new feature, "Read Receipts".
It has now become too important as it shows whether a message is delivered/read by the receiver or not. The blue ticks mean the message is read, whereas the double ticks indicate the message is successfully delivered. Though you can disable or enable it. If you disable it, neither others nor you know if the message has been seen/read.
Further, in 2015, WhatsApp launched the desktop extension for the app. However, the desktop app was introduced the next year. You can now do WhatsApp from your desktop too.
In 2016, an amazing feature was added with WhatsApp, "Video Calling", along with "end-to-end encryption". Like Facebook Messenger, it becomes possible to make a video call using WhatsApp. Moreover, WhatsApp ensures all media and messages exchanged are entirely encrypted, and they can't even see them.
In 2018, WhatsApp launched many other new features such as stickers, downloading data, group calling, PiP mode, UPI payments, customizing wallpapers and WhatsApp Business.
Furthermore, in 2020, dark mode and advanced search mode had been added. In the long run, WhatsApp has promised to bring more updated features.
However, you cannot ignore how WhatsApp had been misused to spread fake news. Earlier, there was no limitation to forward a message to others. The Government presumed that terrorists might be using WhatsApp to communicate. So, they limited message forwarding to five people at a time.
Further, Government and anti-terrorist agencies wanted to get the encryption key to access the messages to prevent any possible attacks. But the company refused and adopted end-to-end encryption of the message.
Not to mention, the recent update of WhatsApp has raised many questions about its privacy policy. Though Facebook claims neither they can see your WhatsApp private messages nor hear your calls. Still, people are suspicious about WhatsApp's transparency about how they collect or use data.
The only relief is that the end-to-end encryption of messages is still in its place. So, hopefully, Facebook or anyone can't leverage WhatsApp data.
Is WhatsApp Free for All Users?
WhatsApp was not entirely free initially. The initial price tag was $1 for iPhone users until July 2013. People had to pay $1 to download the app. But it was applicable only in few countries and depended on the device you were using.
However, WhatsApp brought iOS in line with Android and made the app free for the first year for both iPhone and Android users. After one year, users needed to pay $1 to continue their service.
In 2016, after owning, Facebook changed its strategy and announced the subscription had come to an end. Eventually, WhatsApp now becomes free of cost to all for a lifetime.
Why Did Facebook Acquire WhatsApp?
Referring to WhatsApp's soaring growth, Facebook offered to buy it for $19 billion. It was seen that 70% of people were active in WhatsApp regularly, whereas Facebook got 62% daily users. Furthermore, about 500 million pictures were exchanged daily over WhatsApp, which was more than 150 million on Facebook.
Thus, the acquisition of WhatsApp and Instagram gave Facebook the dominating social media and allowed reaching billions of people. With a market this size, Facebook can find a way to earn more cash.
Initially, Mark Zuckerberg, the CEO of Facebook, assured the WhastApp founders to operate independently. He also ensured zero pressure on the monetization of WhatsApp for the next five years.
But as soon the time went, the promise started fading. Facebook wanted to bring different strategies for monetization. They wanted to implement ads on WhatsApp. However, to keep it as an ad-free communication service, Brian proposed his metered-user model. Here, users would be charged for a certain number of messages used.
Unfortunately, his idea was rejected and hence, he left in September 2017. Eventually, he lost $850 million as he didn't wait for his share to the vest. Without any delay, Jan too left in April 2018 after his vest period came over.
How Did WhatsApp Make Revenue in Past?- The Freemium Model
As WhatsApp started gaining attention after launch, their growth attracted many investors. But the founders were too determined to build an ad-free platform. So, they refused to venture money not to compromise their values.
They have watched Yahoo and Google how they gather your data to sell ads. Moreover, they believe advertisements are nothing but disruption and interruption in aesthetics.
However, in April 2011, the founders accepted $8 million from Sequoia Captial on a condition to keep the app ad-free. By February 2013, Sequoia invested another $50 million at a $1.5 billion valuation. It turned out to be the primary source for 50 staff members. In the same year, WhatsApp active users increased to 200 million.
So, if WhatsApp was an ad-free app, how did it make revenue in the past? The answer lies in its freemium business model strategy. The product was free for the first year, and then users had to pay a yearly subscription fee of $0.99 to continue the service.
Though the users never paid as the service automatically got renewed after the free period was over.
But when Facebook took over WhatsApp, the revenue started to come differently.
How Does WhatsApp Make Money at Present Time?
How does WhatsApp make money in everyone's mind as it's strictly against advertisements and hasn't been charged its user to renew for a long time?
Well, presently, WhatsApp has mainly two sources to make money. Let's look into them.
1. WhatsApp Business API
Facebook launched the WhatsApp Business model to let users build their verified business profile, free to download. The profile includes links to the user's website or Facebook page. Additionally, it lets users serve the customers, create product catalogs, set autoresponders and integrate WhatsApp for Business API.
With WhatsApp Business API, you can communicate personally with your customers globally. Either for a start-up, medium or big business, it's a simple and reliable way. All you need is to create a business profile/account with your information like address, website, business description and email id.
Additionally, it's easy to organize your chat or contacts by labeling them. So, you can find them easily. Furthermore, WhatsApp Business provides businesses with statistics to check how many messages are sent, delivered or read.
However, WhatsApp Business API charges the business account holders for the slow reply. Being a customer, you obviously want a quick response. If the response doesn't make within 24hours, it charges a fee per message that varies by country.
Thus, it makes the business prioritize WhatsApp as well as ensures that customers give preference to it. Once the communication is established, WhatsApp charges for messages over a certain threshold.
Meanwhile, WhatsApp is now supporting about 100 businesses to use its API platform directly. Netflix, Uber, many e-commerce companies, banks, airlines and other big tech companies use this service.
2. Click to WhatsApp Ad
Well, this is not a traditional way to implement ads. While you're clicking any link for a product/business on Facebook or Instagram, it redirects you to the business owner's WhatsApp account. You need to connect your phone number to the Facebook page for this.
However, you may not see those ads on Whatsapp straightway. But through a click to WhatsApp ad, Facebook uses it to increase the revenue.
How Much Money WhatsApp Make?
Unfortunately, WhatsApp's financial statements are not public yet. The parent company doesn't share the revenue breakdown of its different services.
However, according to the annual report of Facebook Form 10-Q, up to 30 September 2014, WhatsApp made $1.28 million. But it was back when WhatsApp earned revenue based on its freemium business model.
In January 2016, Forbes estimated that potential revenue could be up to $5 billion, with the average revenue to be $4 per user in 2020. Though this estimation was below than expected because they assumed to hit 1.3 billion monthly users by 2020.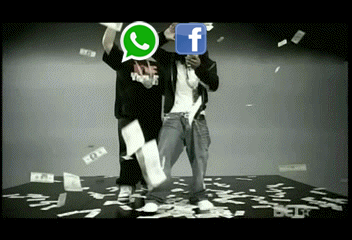 Basically, this is not possible to realize the actual revenue of WhatsApp. But with such a large user base, WhatsApp surely contributes a larger amount to Facebook's revenue stream.
Proposal To Generate Future Revenue
After knowing how does WhatsApp makes money, you probably wonder what would be its next step. Practically, this ad-free service makes not much money currently, but Mark Zuckerberg has plans to change it.
With this intention, Facebook has proposed new strategies to generate revenue in the upcoming future.
Display ads in the status section.
Roll out the Whatsapp payment. However, the process is still ongoing but expected to release very soon.
Copy Snapchat's features like disappearing messages to become more viable in the marketing industry. Thus it can attract Snapchat customers towards WhatsApp.
Conclusion
You may be disappointed if WhatApp becomes a paid service, especially for business purposes. But, if you look at the revenue stream, this is the best strategy. The business model has been productive in making money and has generated potential revenue in the last few years.
Above all, the growth prospect is huge, along with many endless possibilities. With the changes and new upgrading features, WhatsApp is becoming more popular. It enables customer service to communicate with business more securely and easily and enhances the online shopping experience directly through WhatsApp. Although there are other messaging apps, people still prefer WhatsApp to expand their business or network.